W5 1000 Puffs Disposable Vape
JOMO W5 1000 puffs Disposable Vape is JOMO private mold disposable vape. Comes with a 3.5ml e-liquid and a 600mAh battery. A flat shape design brings a more special excellent vaping experience. There're 13 original patterns on the vape, the other side is with the fluorescent effect JOMO logo, which glows automatically in the dark. You can DIY the patterns for OEM orders.10 flavors with TPD registered in Europe.
We support OEM: custom color/logo/flavor/package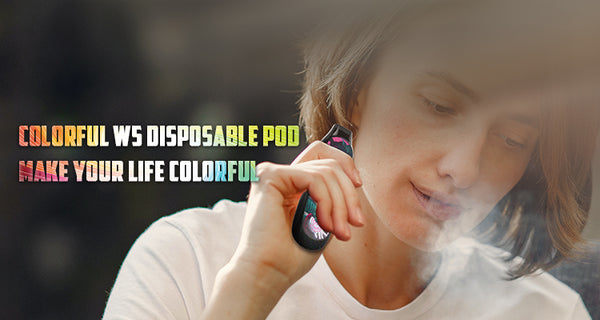 The W5 Disposable Closed Vape Pod is Compatible with all RPM40 coils including RPM-RBA2 coils. Built-in 550 mAh battery with adjustable output power from 5 to 40 W Symmetrical three-spoke air inlet maximizing air inlet4. Equipped with an adjustable airflow ring that maximizes money production. Large 0.96-inch TFT display, using the enlarged font for a clearer display of information.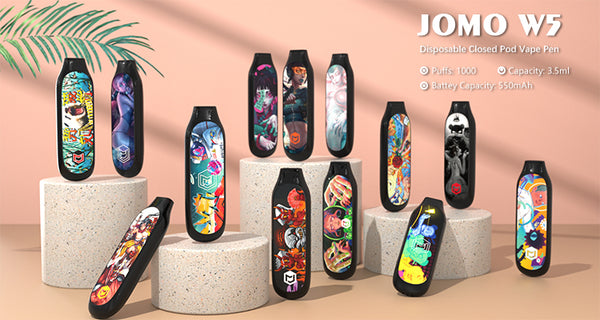 Specifications:
PUFFS: 1000 puffs
Oil Capacity: 3.5ml
Battery Capacity: 550 mAh
Nicotine Strength:0%/2%/5%/custom
Size:97x 30mm
FEATURES:
Amazing Luminous design, unique totem
Support any DIY patterns
Flat mouthpiece Design
550mAh Built-in Battery
Take About 800 Puffs
50mg Salt-based Nicotine
TPD Flavors:
Watermelon Lemonade(0%) 07481-22-00001
Ice Apple(0%) 07481-22-00002
Strawberry Mango(0%) 07481-22-00003
Blueberry Cake (0%) 07481-22-00004
Mango Grape(0%) 07481-22-00005
Watermelon Lemonade(2%) 07481-22-00006
Ice Apple(2%) 07481-22-00007
Strawberry Mango(2%) 07481-22-00008
Blueberry Cake(2%)07481-22-00009
Mango Grape(2%) 07481-22-00010
FAQ
How Can I Purchase Your Products?

Please fill out our contact form. We will get back to you as soon as possible.
Can I Get More Information to Promote Your Products?

Sure! Please email if@jomotech.com, and we will offer a wide variety of marketing materials to support you.
What Is Your Wholesale Pricing?
How Can I Become Your Wholesaler?
About purchase notice
If you want to know more information about the product and the specific price, please contact us through the form below, or chat with us online. We will reply you as soon as possible.