W4R 1600 Puffs Disposable Vape
The W4R 1600 Puffs Disposable Vape is all your want for one disposable that is pre-filled, has no need for maintenance, and is draw-activated. Additionally, it is powered by a 1100mAh built-in battery with a 4ml vape juice capacity and suits your vaping experience with its 5% nicotine strength. With this device, you can expert up to 1600 puffs. It owns its simple and round mouthpiece design, which brings your taste fresh and smooth.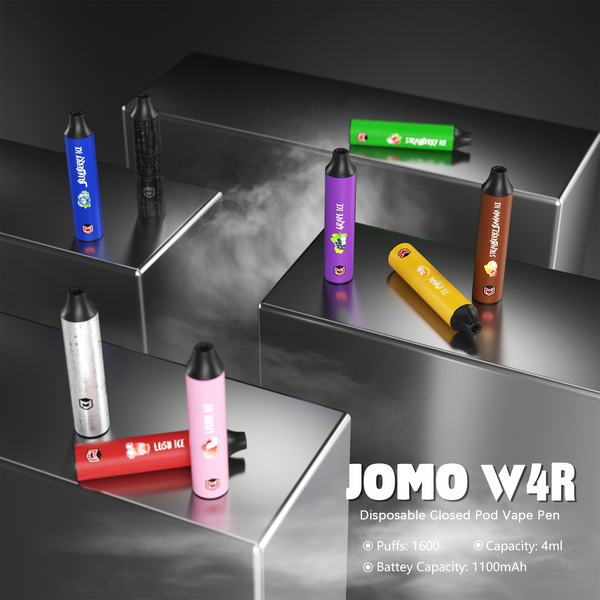 SPECIFICATIONS:

Puffs:1600puffs
Capacity:4ml
Battery: 1100mAh
Nicotine Strength:0%/2%/5%/custom
Size:105.8x 20mm
FEATURES:

Big Capacity
Cost-Effective
Classic Automatic Style
Round mouthpiece Design
Non-Refillable Design
Nicotine Salt Based E-Liquid
Recommended Flavors:
Mango(0%)
Mixed fruit Ice(0%)
Cola Smoothie(0%)
Strawberry Kiwi(2%)
Grape(2%)
Strawberry Banana Ice(2%)
Green Apple Ice(2%)
Strawberry Kiwi(2%)
Blackcurrant(5%)
Blueberry Cherry(5%)
Blueberry Blast(5%)
Lychee Ice(5%)

More options of flavors and nicotine strength for OEM order
FAQ
How Can I Purchase Your Products?

Please fill out our contact form. We will get back to you as soon as possible.
Can I Get More Information to Promote Your Products?

Sure! Please email if@jomotech.com, and we will offer a wide variety of marketing materials to support you.
What Is Your Wholesale Pricing?
How Can I Become Your Wholesaler?
About purchase notice
If you want to know more information about the product and the specific price, please contact us through the form below, or chat with us online. We will reply you as soon as possible.